Introducing Samsara Villas in Phuket, Thailand
Are you planning for a mind-blowing vacation on a stunningly beautiful tropical island? Look no further than Phuket. This island offers everything you need to make your vacation truly delightful. When it comes to choosing a place to stay in Phuket, the choices are endless. There are many different types of resorts, hotels and villas available in this tropical paradise. However, many travelers who opt for a luxury option prefer to choose a Samsara Phuket villa for their luxury accommodation.
Samsara Villa Estate is located on a beautiful private peninsula on the west coast of Phuket. It is home to 8 attractive and spacious hillside and seaview villas in Phuket. Nestled between two amazingly attractive beaches in Phuket, namely Kamala beach and Patong beach, this property offers a highly serene and private ambiance. You can enjoy the stunning views of the sea as well as the hills at Samsara Phuket.
Though Samsara is a peaceful and private estate with inspiring scenic beauty, it is pretty close to all action and entertainment venues in Phuket. Within a 5-minute drive, you can reach the famous Kamala Beach. An 8-minute drive will take you to the attractive Patong Beach. If you choose to stay in one of the villas at Samsara Phuket, you can also reach many nearby secluded beaches.
The Samsara Estate is a 40-minute drive away from Phuket Airport. You can visit golf courses within a 30-minute drive from this location. Close proximity to major attractions, restaurants and other entertainment venues makes Samsara Phuket luxury villa rentals the most favoured accommodation option for many travellers as well.
If you choose the best Phuket luxury villa rental, you can expect a homely ambiance. That is to say, the best properties will make you feel at home. Samsara Villas offer a peaceful and private luxury escape on a tropical paradise. No matter whether you are travelling with a small or large group, you can find a suitable villa in Samsara Phuket to make your stay enjoyable and comfortable.
You will discover palatial sea-view villas that cater to couples, families, friends, corporate retreats and many more at Samsara Phuket. These luxury villas provide an inspiring environment with world-class facilities to ensure 100% customer satisfaction. These properties offer the dedicated services of an in-house management team comprising an English-speaking manager, a private chef, an experienced housekeeper, a gardener and a driver. You can enjoy outstanding services with a clear focus on care and timeliness.
The facilities offered by these Thailand luxury villas at Samsara Estate match five-star standards. Designed in perfect harmony with the natural environment, the best Samsara Phuket luxury villas for rent come with a contemporary design, luxury furnishings and incomparable facilities.
Samsara Phuket is home to eight beautiful, luxury private pool villa rentals with stunning sea and sky views. Let us discuss the viewpoints, facilities and services each villa offers for guests.
Villa Rom Trai – 4 Bedroom Luxury Villa in Phuket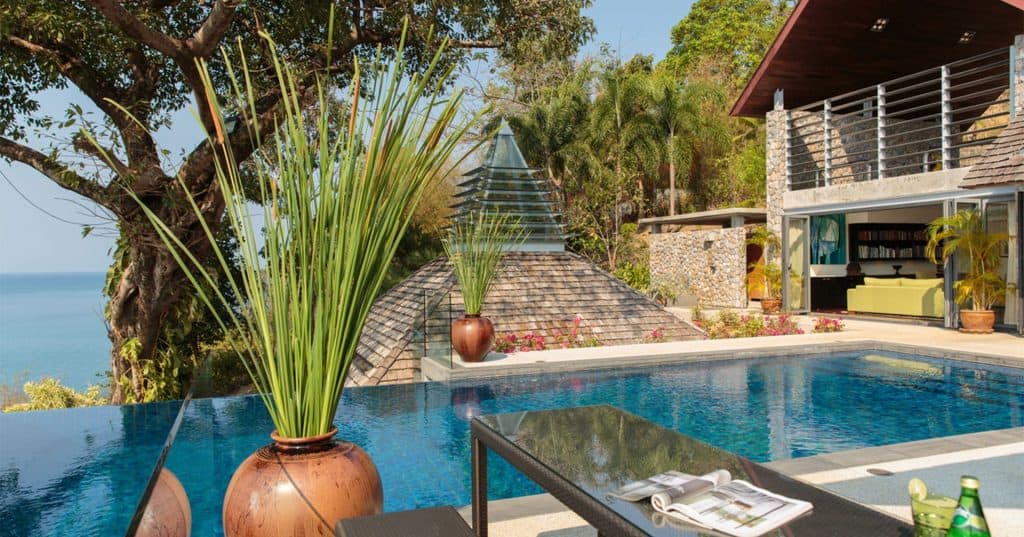 Of all Samsara Phuket villas, Villa Rom Trai is the closest to the sea. This 4-bedroom sea-view property boasts a beautiful, flower-filled garden and two pools. You can enjoy the sweeping views across Nakalay Bay to the Patong coastline from this holiday home. There is enough outdoor space available to enjoy scenic views of the ocean and starlit sky at night.
The interior areas are beautifully furnished with top-end furniture, tasteful Thai accents, contemporary paintings and oriental rugs. With floor-to-ceiling windows, and vaulted ceilings, the living area looks highly impressive. You can also find a neatly decorated, spacious dining area and a well-equipped European kitchen.
All four air-conditioned bedrooms have their own terraces, en-suite bathrooms, and many other modern facilities. The master bedroom comes with an outdoor whirlpool tub. This luxury villa can accommodate 8 guests. You can come across a 20-meter lap pool with sun loungers and beds. There is also a 12-meter infinity-edge private pool for guests to relax and unwind.
This Samsara Phuket luxury villa for rent is also home to a fully-stocked library, a spacious outdoor dining area, a gym and a sauna and steam room. A live-in chef and housekeeper along with an English-speaking manager will take care of your needs with a lot of affection and discipline.
Villa Hale Malia – 4 Bedroom Luxury Villa For Rent In Phuket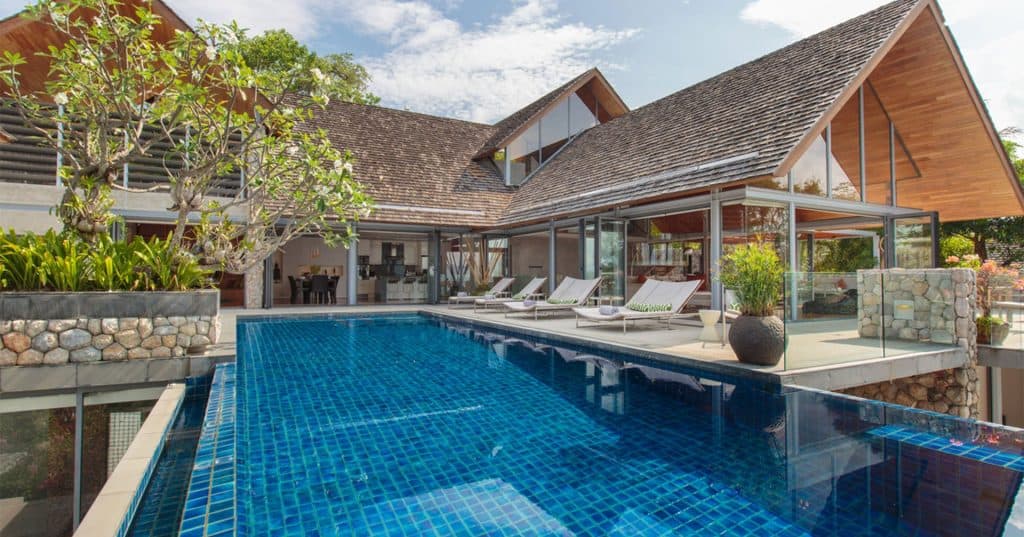 Overlooking the Andaman Sea and Patong coastline, Villa Hale Malia promotes elegantly laid-back living. This 4-bedroom Phuket luxury villa rental offers you privacy, peace of mind and tranquillity even with close proximity to Phuket's most popular restaurants, shopping centres and nightlife spots.
Located on Nakalay Point promontory, this seaview property houses the largest garden of all Samsara villas. Beautiful flowers, frangipani trees and ferns create a marvelous environment to keep you relaxed and revitalised. It is a perfect choice for family retreats, corporate events, outdoor weddings and anniversaries. With an open-plan layout, Hale Malia accommodates upto 8 people.
4 luxury bedrooms, an expansive living room, a spacious kitchen and an inviting dining area are merged into one airy space with numerous cosy furniture and inspiring artworks. The terrace contains a spectacular 14-metre infinity pool where you can have an invigorating dip while enjoying the amazing beauty of the sea and the sparkling skyline. The sunbeds available on the poolside make your tanning experience incredibly enjoyable.
Near the pool, you can find an open-air sala pavilion. As one of the most attractive Phuket luxury villa rentals, Villa Hale Malia houses a steam and sauna room, a Thai-style theatre room and an inviting family room. A team comprising a live-in villa concierge, a Thai chef and a housekeeper will be at your beck and call to fulfil any type of need.
Villa Lomchoy – 5 Bedroom Luxury Villa in Phuket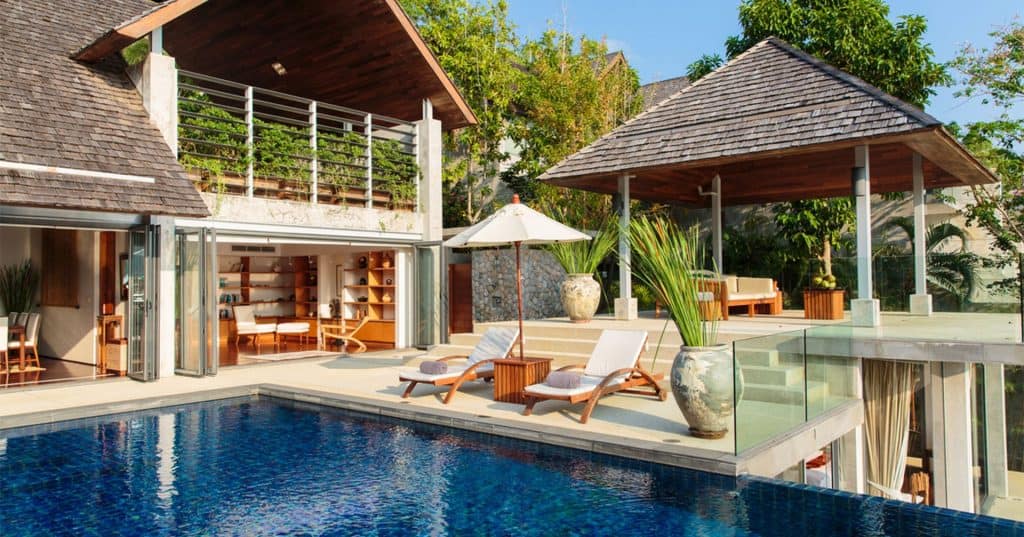 If you want to experience authentic Thai warmth, superior luxury and unmatched comfort, Villa Lomchoy is a perfect choice. As one of the most popular Samsara Thailand luxury villas, this 5-bedroom property offers breathtaking ocean vistas and spectacular sunsets with a clear focus on comfort, safety and luxury.
The captivating blue and breeze of the Andaman Sea make it a perfect haven for relaxation. All bedrooms are air-conditioned and neatly decorated with their own walk-in wardrobes, en-suite bathrooms, bathtubs and terraces. The main bedroom also offers a sunken outdoor bath. You can find a split-level fully-equipped home theatre-come-kid's bedroom that makes your movie-watching experience thoroughly enjoyable. It contains everything you need, including plush sofa beds, cosy nest chairs, a flat-screen TV with a DVD player and iPod docks.
Other interior spaces, including the living room and dining area with galley kitchen, are equipped with carved furnishings, local textiles, vaulted ceilings and dark teak floors. Being one of the most spacious Phuket luxury villas, this property also contains a home office, an outdoor BBQ and alfresco dining area, a deep-blue infinity pool with shaded sun loungers and an open-air sala pavilion to make your vacation deeply engrossing.
The quality of services by a dedicated in-villa team matches the best hospitality standards in the industry. Personal safes, free Wi-Fi and an outdoor sound system in the pool area with an iPod dock are also offered to keep the guests safe and entertained.
Villa Leelavadee – 5 Bedroom Luxury Villa in Phuket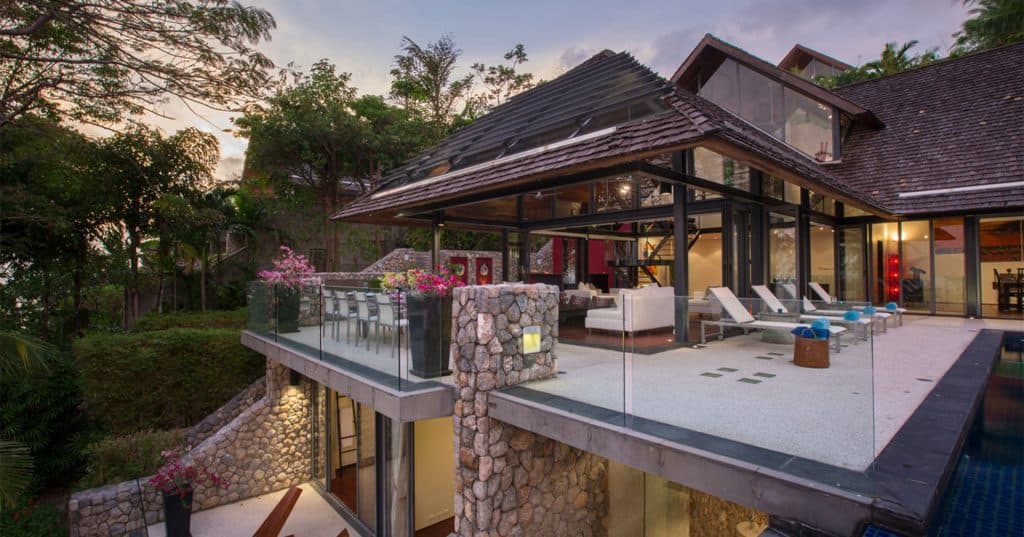 This Phuket luxury villa rental captures the true essence of a perfect seaside stay in Phuket. There is no better place to enjoy your vacation than this eternally beautiful 5 bedroom property with incredible sea views, inspiring ambiance and outstanding facilities. The colourful decor adds a fanciful touch to this incomparable five-star retreat.
A flower-filled garden welcomes you as you step into this inviting property. The living area looks elegant, luxurious and appealing with beautiful artworks, plush furniture and top-to-bottom glass windows. It leads you to a lavish terrace with stunning views of the ocean and mountains. The spacious terrace contains an in-built barbecue and a perfect area for an alfresco family feast.
The focal point of this Samsara Phuket villa is a sparkling 13-meter infinity pool. The poolside comes equipped with beautiful sunbeds to keep you entertained. You can also find a covered sala outside to relax and unwind. Five spacious bedrooms with private balconies or terraces, en-suite bathrooms, and modern furniture help you stay relaxed.
This seaview property also offers a big home theatre, a fully-equipped private gym and a secret ocean-side deck. An in-house villa team comprising a villa concierge, a Thai chef and a housekeeper/butler pampers you with exceptional hospitality services with a clear focus on care and timeliness.
Villa Saengoosta – Amazing 5 Bedroom Luxury Villa in Phuket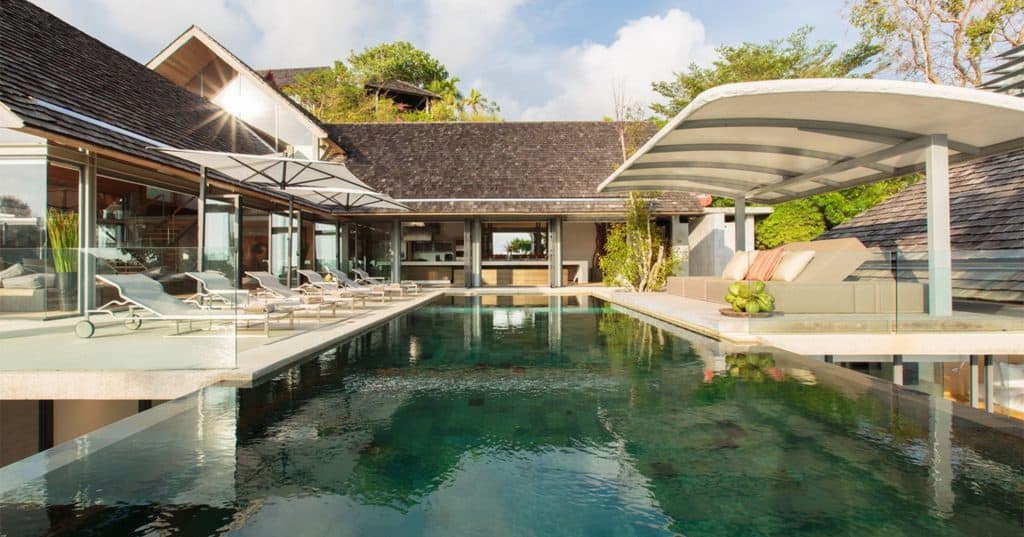 This Samsara Phuket villa is unique with its inspiring Scandinavian decor and pronounced ultra-modern look. You can enjoy splendid sea views and sunsets from indoor and outdoor areas. The double-height laid-back living area comes with wooden floors and floor-to-ceiling windows. You can also find an oversized communal dining table and a well-equipped kitchen in this elegant property.
A 15 meter-long infinity-edge pool with glass panels is the focal point of this 5 bedroom luxury villa. Sun loungers and daybeds on the poolside help you chill out by enjoying the sweeping views of the ocean and sky. This beautiful property also has a bar area, a fully-equipped media room and a pool table. Overlooking the garden and sea, all five bedrooms come with private bathrooms and bathtubs. The main suite opens to a wraparound terrace where you can find an L-shaped plunge pool to relax and unwind.
Villa Saengoosta stands high among the most attractive Phuket luxury villas for rent with a unique architectural style and serene environment. The service team never makes you feel disappointed. Offering timely and responsible services, the in-house service team takes care of your requirements with a lot of care and commitment. You can request the live-in chef to prepare your favourite Thai or continental dishes.
Villa Benyasiri – 5 Bedroom Luxury Villa in Phuket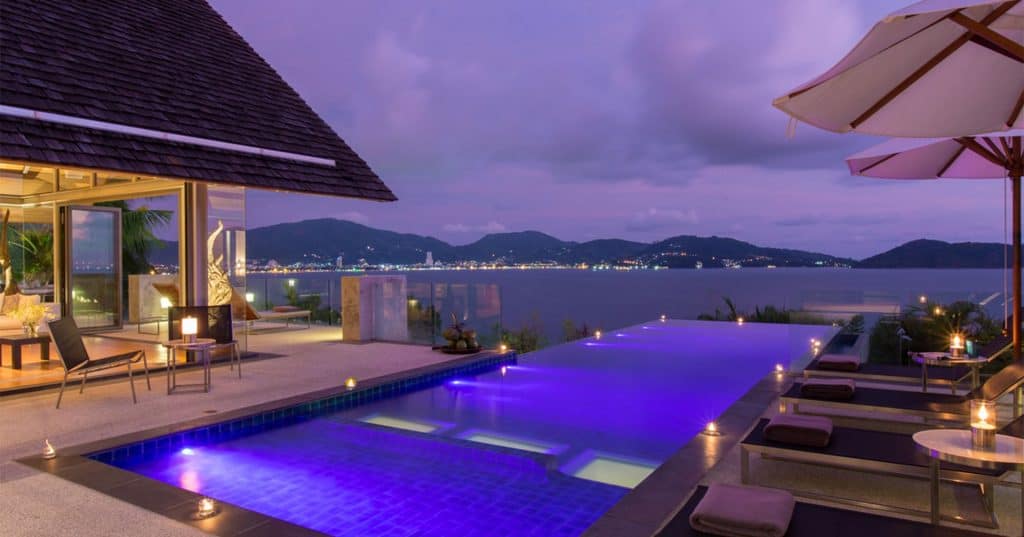 Located on a beautiful hillcrest, Villa Benyasiri offers expansive vistas of the Andaman Sea and Patong Coastline. This five-bedroom villa comes with a sleek design that captures the pure essence of contemporary minimalist style. You can find an aesthetically pleasing living room with full-length glass walls and vaulted ceilings. The terrace of the living room opens up to a beautiful 13-meter infinity pool.
Sunbeds and loungers are placed on the poolside to let you relax and enjoy the amazing views of the sea and sunset. Like other Samsara Phuket luxury villa rentals, Villa Benyasiri boasts an expansive alfresco dining area. You can also find a barbecue area and a secluded open-air sala in the outdoor space, ideally suited for yoga sessions and intimate gatherings.
All five bedrooms are spacious, bright and well-organised with luxury furniture. The master bedroom of this seaview villa comes with a wraparound terrace and a sunken en-suite. This Phuket luxury villa rental is also home to a tropical garden, a split-level home theatre, a communal lounge area and a ping pong table.
No matter whether you want Indian, Thai or western cuisine, the services of an in-villa chef are made available to meet your exclusive requirements. A dedicated villa concierge is at your beck and call to arrange everything you need. The team also contains an experienced housekeeper.
Villa Fah Sai – 5 Bedroom Luxury Villa in Phuket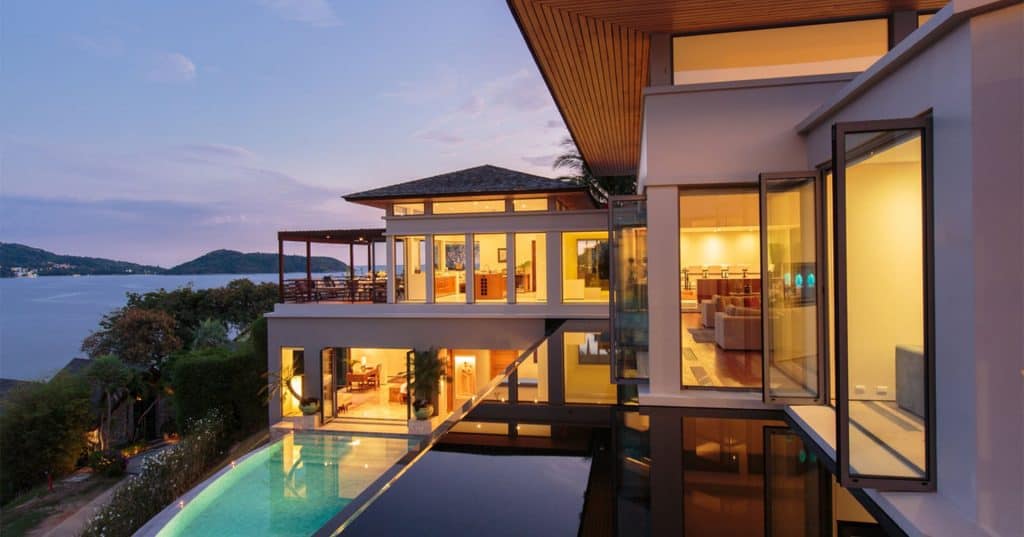 If you are on the lookout for Phuket luxury villas of exceptional quality and appeal with top-of-the-line facilities and services, you can choose Villa Fah Sai. This 5-bedroom sea-view property offers picturesque panoramas of the sea, hills and sky from all rooms and makes your vacation a pampered tropical retreat.
Unlike other Samsara Phuket villas, Fah Sai is wider than deeper and provides uncompromising safety for guests. All five bedrooms come with their own private bathrooms and separate entrances. The palatial master bedroom has an inviting sitting area, a walk-in wardrobe and an attached study.
You can enter directly to the pool from the other 4 bedrooms. The 18-meter infinity pool is the perfect choice for a day or midnight dip while enjoying the spectacular views over Nakalay Bay to the Patong skyline. Sun loungers fill the pool deck to take your sun tanning and recreation to the next level. The in-house hospitality service team is highly responsive and looks after you with care and affection.
As one of the most reputed Thailand luxury villas, Villa Fah Sai offers the most advanced facilities for guests. You can find a home theatre, comfy sofa seating, an open-plan kitchen with a breakfast nook, floor-to-ceiling glass walls, an indoor formal dining area, an inviting living area with modern amenities and covered outdoor terraces in this Samsara Phuket luxury villa rental.
Villa Viman – 6 Bedroom Luxury Villa in Phuket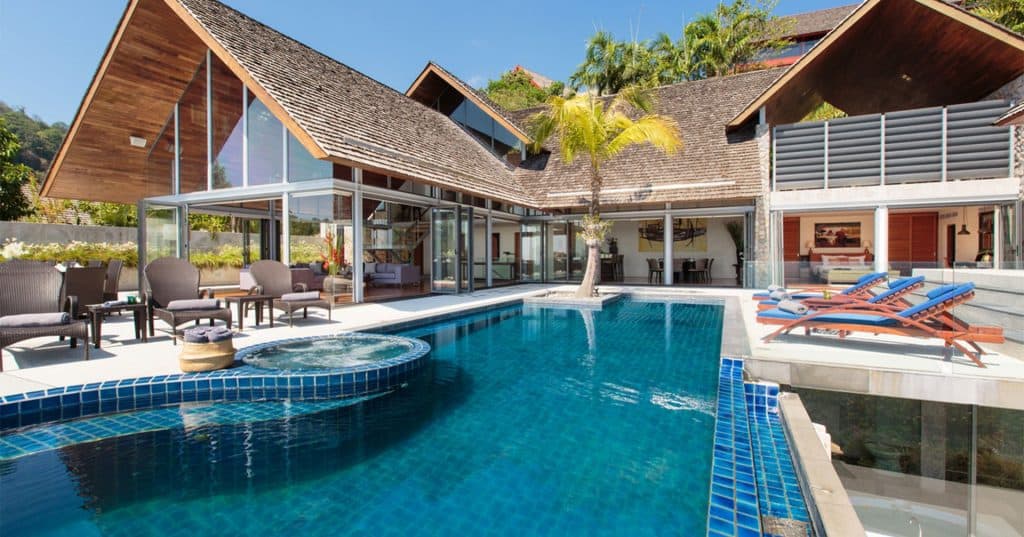 If you are searching for the largest Samsara Phuket villa with a castle-like elegance, look no further than Villa Viman. It boasts 6 spacious, air-conditioned bedrooms, perfectly suited for a royal, fun-filled holiday. The breathtaking vistas of the Andaman Sea and sky take you into a magical world.
The interior spaces of this sprawling property offer a unique blend of oriental rugs and stone Buddhas to create a subtle Asian aesthetic. With high-vaulted ceilings, plush furniture, and transparent floor-to-ceiling glass walls, the open-plan living room makes you feel incredibly comfortable. A beautiful dining area and a spacious dining area are also located near the living room.
A 13-meter infinity-edge private pool makes every dip a refreshing experience. You can enjoy the arresting beauty of the sea and sky when you are in the pool. The spacious terraces of this Samsara Phuket seaview villa are perfect venues for family gatherings, corporate sundowners and parties. The in-villa team makes a perfect host with their friendly, disciplined and responsive approach.
You can find a kid's playroom, an adult game room, a beautiful home theatre, an outdoor whirlpool and tub, Outdoor BBQ and al fresco dining area and an outdoor covered sala in this largest Samsara Phuket villa. If you are looking for one of the best Phuket luxury villas for rent that offers serenity, privacy, world-class facilities and responsible services, you don't have to look beyond Villa Viman.
What Makes Phuket Samsara Villas Truly Special?
These 8 Samsara Phuket villas offer a perfect world of serenity, privacy and luxury. With open-plan living areas, these properties promote comfortable living with a relaxed state of mind. Each Samsara Phuket luxury villa rental comes with wide terraces where you can enjoy breathtaking views of the sea and sky.
Each villa contains an incredibly attractive infinity pool. It lets you take a refreshing dip by enjoying the amazing scenic beauty. Sun loungers and beds are placed on the poolside to relax and unwind after a few laps around the pool. You can even find a bar and barbecue setting near the pool. Spacious and fully air-conditioned bedrooms with modern en-suite bathrooms, showers and bathtubs ensure supreme comfort and luxury. Both the living rooms and bedrooms offer breathtaking sea-views through top-to-bottom glass doors.
All these Phuket luxury villas for rent have their own distinct charm and character. You can choose a suitable property after assessing your needs and comparing the facilities provided. Offering sweeping views of Patong beach and Nakalay Bay, these villas take you into a magical world. You can even find stunningly beautiful tropical gardens that are perfectly suited for enjoying splendid sunset views.
With sleek and contemporary architecture, some of the villas follow European tradition. There are also properties with authentic Thai architecture and décor. No matter whatever type you choose, you can expect the ultimate luxury and personalised service. The Samsara brand is highly renowned for its spacious kitchens and beautiful indoor and outdoor dining areas.
Each property is home to a fully-equipped European kitchen. An experienced Thai chef is available to prepare authentic Thai and continental dishes that take your taste buds on an engrossing culinary adventure. The indoor dining areas available in all these Phuket luxury villa rentals make your eating experience delightful. The outdoor salas located near the pool make a perfect destination for relaxation and alfresco dining.
Samsara Phuket luxury villas also boast well-equipped fitness rooms, lap pools, kids playrooms, yoga rooms, steam rooms and saunas and pool tables. Guest satisfaction is the ultimate priority of each Phuket luxury villa rental. If you are planning to explore the Phuket area, you can ask the villa staff to arrange a chauffeur-driven tour. The customer service team also helps you book luxury yacht tours to explore the nearby Phang Nga Bay islands.
If you want to find a luxury home away from home, you can choose Phuket Samsara villas. Offering much-needed privacy, tranquillity, comfort, luxurious facilities and friendly services, they make your staying experience highly rewarding, enjoyable and fulfilling. These Phuket luxury villas for rent surpass your expectations in terms of quality, safety and comfort to deliver an unforgettable holiday experience in a tropical paradise.